In 1910 at Oloron-Ste-Marie, Calixte and Anastasie Lartigue established one of the region's first workshops producing fabrics for espadrilles and berets. Since then, 4 generations have perpetuated the art of weaving with creativity and passion. Philippe Lartigue, Creator and Weaver, created the "1910 Lartigue" brand as a tribute to the family's 1st weaving workshop and launched a new concept: the guided tour of the weaving and production factory together with a shop where people can find the collections made there.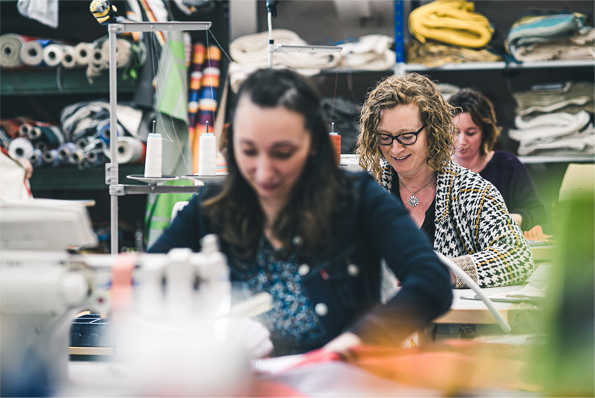 Discover traditional weaving, its secrets and its wonderful history in a guided tour: warpers, beamers, weavers, seamstresses demonstrate their craft to the rhythm of the machines. A wonderful tribute to all the hands that work to create our Basque linen.
We produce fabrics (cotton, linen, coated and deckchair fabrics) with Basque or Bayadère stripes. Our products are then made from these fabrics and available in the shop: linen for the table (tablecloths, napkins etc.), kitchen (tea towels, aprons etc.), soft furnishings (cushions, curtains etc.) and accessories to go everywhere with you this summer (bags, espadrilles, deckchairs, tablet cases etc.).