Guaranteed 100% Basque Weaving
Since 1910, the year in which Etablissements Lartigue was founded, 4 generations of weavers have perpetuated the art of weaving and guarantee authentic artisan expertise.
The various traditional production stages: spooling, warping, weaving, making-up, are guaranteed with the same skill as a century ago.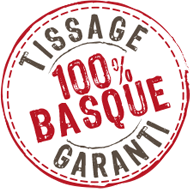 We certify the quality and local origin of all our products woven in our workshops. We have opened the doors of our workshops to you so we can share our authentic know-how with you. Our skilled craftspeople will reveal some of the manufacturing secrets of this lovely Basque linen...
For more information, please go to: Visit our workshops.